The future of digital connectivity is here.
The embedded SIM (eSIM) is the tiny bit of connectivity-enabling tech that's making a big bang in the world of mobile connectivity and making it possible for Mobile Network Operators (MNOs) to manage connections remotely.
As the name suggests, eSIMs are embedded directly into the heart of the devices they enable and even though they're smaller than a matchhead, they can hold multiple account details and allow consumers to choose between them at the touch of a button instead of having to swap physical SIM cards.
As a result, they eliminate unnecessary plastic SIMs and completely do away with the need to swap or replace them each time you upgrade, lose your phone or swap phone suppliers. That's great news for travellers and business users, as it frees them from exorbitant roaming charges by allowing them to swap seamlessly between local operators, and eSIM profiles offer just as much security as a physical SIM too, with the added bonus that an eSIM can't be dropped, lost, stolen, damaged or duplicated.
Thanks to the flexibility and freedom of eSIMs, time is running out for physical SIM cards and they'll soon be going the same way as the floppy disk, the cassette tape and the headphone jack…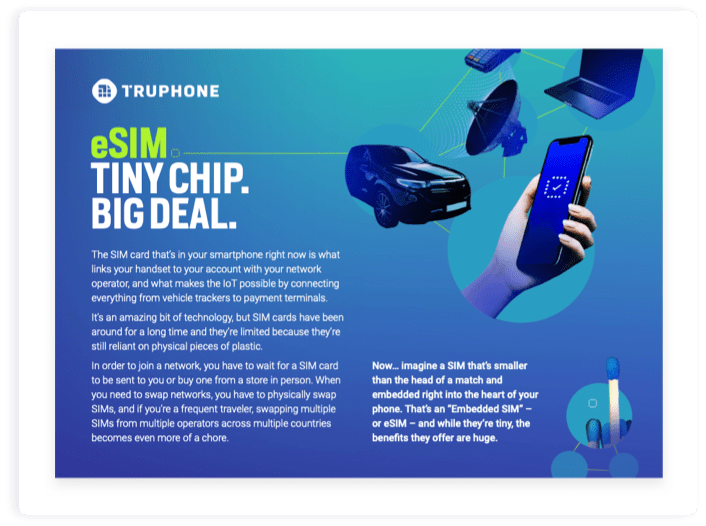 DOWNLOAD THIS HANDY, EASY-TO-DIGEST RESOURCE TO LEARN MORE ABOUT:
The evolution of connectivity
How eSIM works
Where eSIM can be used in connected devices
Why eSIM is the future of connectivity
Downalod resource