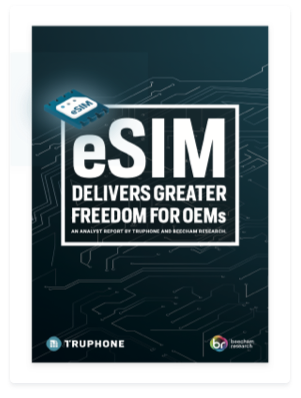 Traditional SIM card restricts IoT growth for OEMs.

The original SIM card (Subscriber Identity Module) – the plastic card inserted into your mobile phone to determine which network operator (MNO) your phone is assigned to – has essentially not changed much since it first came to the market in 1991. It has been well suited to the sales process in specialist mobile retail stores, where the SIM is inserted into the phone at the point of sale.

While it has contributed significantly to the growing success of the mobile handset market for many reasons, it is not ideal for other connected devices which are not purchased through mobile phone retail outlets. For IoT applications, such as those using asset trackers, cars, CCTV cameras, healthcare devices, security alarms and smart meters, matching up a specifically configured SIM card with the device it is configured for is often a logistical nightmare for the product manufacturers (OEMs) involved.
View this report and learn:
How eSIM eases logistical issues from production through to roaming
Why eSIMs are a major advantage to OEMs and the auto industry
Market projections for use of eSIM for IoT applications
What Truphone for Things has to offer IoT customers
Download report